A bit of History
The 2020 Chevrolet Corvette Stingray is the culmination of 60 years of mid-engine experimentation. While the eighth generation Corvette marks a radical leap forward in terms of capability from the seventh generation, it also incorporates lessons learned from past engineering exercises such as the Chevrolet Experimental Research Vehicles (CERVs) I-III, the Aerovette and others. Below is a little bit of that history......

Zora Arkus-Duntov, considered the father of Corvette, first encountered early mid-engine vehicles in his youth, including the Auto Union Types C and D Grand Prix racing vehicles.

Zora had a wealth of propulsion knowledge and thrived as an auto racer and engineering consultant in automotive and aeronautics. He was attracted to GM by the original Corvette concept, which he saw at the 1953 Motorama in New York City's Waldorf Astoria.
| | |
| --- | --- |
| Zora Arkuus-Duntov started at GM on May 1, 1953, and helped Chevrolet chief engineer Ed Cole turn his proposed Small Block V-8 into a viable technology for Corvette later that decade. Zora became Corvette's first true chief engineer and pursued the mid-engine layout through various concepts, including the CERV I, started development of the "CERV I" (Chevrolet Experimental Racing Vehicle) in 1959, which was unveiled to the public at the Riverside International Raceway November 1960, under the name "CERV I" (Chevrolet Experimental Research Vehicle). Zora described it as "a design without limit" and an "admirable tool" to instruct Chevy on "what to put in Corvette. | CERV- I Image: GM |

The CERV I was outfitted with seven different engine combinations in its working lifespan, but its original engine, a Chevrolet Small Block V-8, and its lightweight aluminum core are both modernized on the 2020 Corvette Stingray.
The primary function of the "CERV-1", was to provide Chevrolet engineers with a test platform from which direct visual studies were made from all types of ride and handling behavior under amplified conditions. In order to realistically amplify vehicle responses to handling and road stimuli, the performance capability of the vehicle must be extended far beyond that of regular passenger cars. In other words, a high power-to-weight ratio is mandatory. By such means, suspension phenomena that are extremely subtle, and thus difficult to isolate within the performance capabilities of a regular passenger car, may be studied and treated quantitatively with the "CERV-1". Another fundamental factor in the experimental car's design is the visibility afforded by the body design. The streamlined, abbreviated body encloses the engine, transaxle, engine cooling system, and provide an open cockpit for the driver, from which all four wheels, in contact with the ground, are clearly visible. Some broad features of the "CERV-I" are: extremely light weight to afford a horsepower-to-weight ratio such as that usually associated with high performance aircraft; rear mounted engine in unit with a fully synchronized four-speed transaxle; the only passenger, the driver, sits well forward on the centerline of the car for virtually optimum visibility, and all four wheels are independently suspended to provide a high order of stability and positive handling.
The wheelbase is 96 inches (2,438 mm) and the car weighs approximately 1600 pounds (726 kg), ready to run. The chassis is an extremely stiff frame of chrome-molybdenum steel tubes welded into a truss-like structure weighing approximately 125 pounds (57 kg). The lightweight body (approximately 80 pounds (36 kg)) is aerodynamically styled and fully encloses the underside of the car. The body is fabricated of a glass fiber reinforced plastic somewhat thinner than that used in the Corvette body. The wheels are completely exposed to permit visual observation of tire-to-road contact during handling studies
In 1964, Duntov's team debuted CERV II, which Duntov and Chevrolet General Manager Semon "Bunkie" Knudsen envisioned as a challenger at Sebring, Le Mans and other races. With torque converters in the front and rear, CERV II employed the first-ever mid-engine four-wheel-drive system, for which Duntov held the patent.

Zora Arkus-Duntov began work on the CERV II in 1963, which was completed in 1964. The original plan was to build six cars, three for competition and three spares. The body was styled by Larry Shinoda (who also designed the "63 Stingray) and Tony Lapine.

To achieve superior performance, the car was built on a monocoque chassis, powered by a 377 ci all-aluminum single overhead cam V8 with Hilborn injection rated at 500 hp (370 kW). Some test results indicated it had a top speed of 210 mph (338 km/h), and 0-60 mph in 2.8 to 3.0 seconds. Transmission is a 2-speed on each of the front and rear axles, with transferable torque between axles. The top speed was reported to be 200 mph. In 1970, CERV II was used to test tires with a ZL-1 engine. This vehicle and the CERV I were later donated to the Briggs Cunningham Museum, in Costa Mesa, California.

CERV- II Image: GM
The next attempt at a mid-engine vehicle was the 1990 CERV III concept built in conjunction with Lotus to explore future levels of performance. CERV III, more of a road car than a track performer, was intended as a development vehicle to evaluate mid-engine structures. CERV III was powered by a 5.7L, 32-valve dual overhead cam LT-5 Small Block V-8 with twin turbochargers and internal modifications. It produced 650 hp and 655 lb-ft of torque. Top speed of 225 MPH.

Corporate Engineering Research Vehicle III was first unveiled at Detroit Automobile Show in January 1986 as the Corvette Indy prototype car. The vehicle featured 4-wheel drive, 4-wheel steering, and CRT cockpit screens. The vehicle was styled by Chief of Chevy III Studio, Jerry Palmer.

In January 1990, CERV III (No. 3) made its debut at the International Auto Show in Detroit. The car was made of carbon fiber with a fiberglass-finish coating, with estimated price of $300k-400k. Other standard features include computer-controlled active suspension system, ABS braking and traction control, six-speed automatic transmission, all-wheel-drive and four-wheel steering along with a fully multiplexed electrical architecture.

CERV- III Image: GM
Zora Arkus-Duntov, retired from GM in 1975, saw the mid-engine layout with the engine located ahead of the rear axle as the optimal configuration for weight distribution, excellent handling and forward visibility. Despite the layout's innate performance benefits, its implementation in the scheme of mass manufacturing proved problematic.
CERV -V (1992) and CERV IV-B (1997)
On December 1992, General Motors' Corvette group secretly contracted with TDM, Inc. to build a test car of the 1997 Corvette, which was officially called CERV-4 (Corvette Engineering Research Vehicle). The Corvette group directed the project, with the Chevrolet division paying for it. General Motors management was not told about it, for fear of cancellation. It was unveiled by Corvette chief engineer Dave Hill on 1993-5-3 at the General Motors Technical Center in Warren. The build cost was about US$1.2 million.
It was a test mule vehicle for the upcoming Chevrolet Corvette C5. It includes 5.7L LT-1 V8 engine, 6-speed manual transmission axle, 4-wheel disc brakes, front 255/45ZR17 and rear 285/40ZR17 tires on BBS basket wheels, side curtains, no side window glass, and a modified production interior.
The vehicle was sold in 2009 Barrett-Jackson Palm Beach auction for $34000 (before buyer premium).[7] This car is currently on display in Effingham, IL at the MY Garage Museum owned by Michael and Blake Yager.
The previous mid-engine Corvettes were relegated to concept status by issues including engine cooling difficulties, limited passenger and luggage space, loudness and the inability to produce a convertible variant. Advances in development, aided by computer-assisted engineering and virtual reality, helped the current Corvette team carefully plot out the 2020 Chevrolet Corvette Stingray's architecture. Engineers worked closely with designers to ensure that the vehicle's form met all of the necessary performance benchmarks, while preserving the Corvette legacy.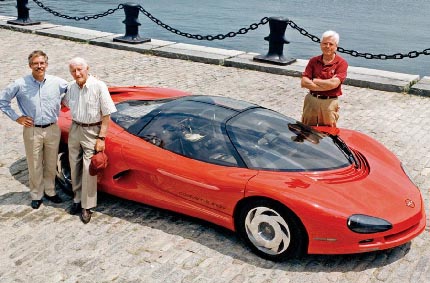 Mid-engine was always part of Corvette's destiny. The 2020 Chevrolet Corvette Stingray pays off the vision of thousands of people who came before it and lives up to Corvette's core fundamentals of performance, functionality and attainability.
Story and Sources: GM, Chevrolet, Idaho Corvette Page - Images: GM, Idaho Corvette Page